Details:
e © AP6.0
25mm A4 Stainless Steel AISI 316 2 hole Top Pipe Clip
Overall length 67mm.
Width 20mm.
Material Thickness 1.5mm.
Overall Height 26.5mm.
Inside Diameter of loop 25mm.
Fixing hole diameters 6mm.
Ideal to clamp of fix down Pipe,Wire,Rope or Rod etc.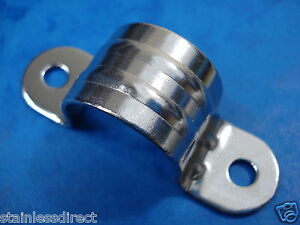 This product was added to our catalog on Sunday 19 January, 2014.
Customers who bought this product also purchased...